Frank Hoang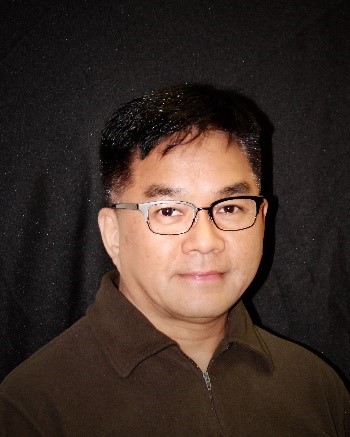 Chemistry Laboratory Technician
Phone: (916) 686-8732
Frank.Hoang@cnsu.edu
---
Education
MS in Molecular Biology, Microbiology, and Biochemistry at Southern Illinois University – Carbondale
BS in Biochemistry at University of California – Davis
About
After obtaining a BS in Biochemistry at UC Davis, Frank moved to San Diego to start a 12-year career in the burgeoning biotech industry. He worked as a laboratory bench molecular biotechnologist in the R&D department at a number of biotech companies, performing research & development for new products ranging from a multivalent viral vaccine for the animal health industry, to a diagnostic assay for the influenza virus, to an engineered thermostable T7 RNA polymerase for use in the 3SR RNA amplification method, and to cloning a putative retrovirus implicated as a causative agent in human Rheumatoid Arthritis. His latter work on retrovirus has culminated in a co-authorship of a US patent award.
After 12 years of laboratory bench R&D work, Frank left the biotech industry to return to school for an MS in Molecular Biology, Microbiology, and Biochemistry at Southern Illinois University at Carbondale. His graduate research thesis focused on the molecular biology of Klebsiella pneumoniae, a bacterial pathogen that can cause diseases in human. His research on the Ferric Uptake Regulatory (FUR) gene in Klebsiella pneumoniae resulted in a poster presentation at the 1999 American Society for Microbiology meeting in Chicago, Illinois.
After receiving his MS degree, Frank went on to medical school and finished his first two years of the basic medical sciences. Afflicted by some then current physical ailments, however, Frank had to abandon his medical studies but soon discovered his interest in teaching. For the past 15 years, Frank has been teaching Chemistry mostly at the community college level, sometimes also at the university level (UC Davis and Sac State). Some years, he has held (temporary) full-time teaching position, most other years as adjunct instructor.
For the past six years, Frank has been a volunteer part-time science teacher at a small, private K-12 school (City Dharma Realm) in West Sacramento. The school is associated with a Buddhist temple of which he is a member. He has taught Physical and Life Sciences at the middle school level, Chemistry and Biology at the high school level, and has set up for the first time an AP Chemistry program for the school in 2015. He remains an active volunteer teacher for the school and is teaching a Biology class at the high school level for the current 2020-2021 academic year.
Frank joined the College of Health Science at CNU in August of 2020 as a Chemistry Lab Tech. He hopes one day to be able to use his biotech industry experience to help CHS develop its future biotech study program for the benefits of its students.
Frank's life motto is: To live your life so as to benefit others