News: College of Health Sciences
---
CNU College of Health Sciences Podcast Series: New release every Monday
April 10, 2023
Rancho Cordova, CA- CNUCHS is proud to announce the launch of our podcast series. We share knowledge, spark meaningful conversations, and entertain you with engaging content. Don't miss out on the opportunity to be a part of this amazing community- Subscribe today.
Listen on YouTube https://www.youtube.com/@cnuchs691
Listen on Spotify https://open.spotify.com/show/24sRuToCphxFZcVIj1DiKI?si=bb8310fd1a4747f8
---
Congratulations to CNU COM Class of 2023 for your 97% residency Match Rate!
CHS saw over 20 former students match to medical residencies in the Class of 2023.Read More: https://medicine.cnsu.edu/news/articles/2023-Match-Day.php
---
CNU College of Pharmacy Ranked #6 Among All Pharmacy Schools in California!
Read More https://www.cnsu.edu/news/ARTICLES/2020805-Pharmacy_Ranked_6.php
---
Congratulations to CNU COM Class of 2022 for your 98% residency match rate!
Read Morehttps://medicine.cnsu.edu/news/articles/2022-Match-Day.php
---
February 16, 2022
ELK GROVE, CA – California Northstate University (CNU) is proud to announce that it has received final approval on its proposed North Natomas Medical Center Campus by the Sacramento City Council during last night's meeting.
CNU's proposed Medical Center Campus at Innovation Park is a new development project headed by the Sacramento Kings organization that will transform 35 acres of the 170-acre former Sleep Train Arena in North Natomas into a vibrant mix of residential, commercial, health and educational uses.
---
June 18, 2021
SACRAMENTO (sacbee.com) – New use for Sacramento's Sleep Train Arena site revealed: 'A hub of innovation'
The Sacramento Kings and a local medical group announced Wednesday they have reached a deal to build a hospital and medical complex on the former Sleep Train Arena site in North Natomas.
Kings officials said they will turn over 35 acres of land, including the arena, to the locally based California Northstate University group to construct a major teaching hospital, trauma center and medical school that could bring up to 3,000 jobs as well as housing to the now unused site.
The level 2 trauma center would be 10 to 11 stories tall, and would start with 250 rooms, ultimately expanding to 400, officials said. It would include a helipad. The initial phase of the project could be built in about three and one-half years, university officials said. [Read More]
---
May 17, 2021
SACRAMENTO (CBS13) – Graduation didn't look the same at the Golden 1 Center, but California Northstate University graduates wouldn't have missed their big day for anything.
"I am really excited to be here with everyone and to be able to celebrate all of our accomplishments and achievements together," said graduate Olivia Wu. [Read More]
---
May 11, 2021
This APA designation recognizes CNU's 5-year Psy.D. degree as a nationally accredited psychology program that provides students the professional and scientific skills to treat diverse and complex mental health populations... [Read More]
---
March, 2021
CNU COM students have matched in very competitive specialties such as Orthopedic Surgery, Dermatology, Urology, Ophthalmology, Diagnostic Radiology, Otolaryngology and surgery.
Many of our students have matched in well-known and very highly regarded residency programs... [Read More]
---
January 12, 2021
California Northstate University [CNU] announced its Elk Grove campus has been designated as one of the primary sites for COVID-19 vaccination for the public in the Sacramento region. The clinic will open to the public through appointment if you fall into Phase 1A on Jan. 15...
...selected because "its pharmacy students and interns are trained and certified to administer vaccines. It also has ultra-low temperature storage freezers required to preserve the Pfizer-BioNTech vaccine safely before use."... [Read More]
---
…California Northstate University (CNU) announced that its College of Pharmacy (COP) has been ranked No. 4 in the state in the recently published California State Board of Pharmacy report for passing rates on the latest California Practice Standards and Jurisprudence Examination for Pharmacists (CPJE).
The results demonstrate the effectiveness of new strategies for curriculum improvement and individual competency assessment. Passing the CPJE is one of the required components to practice as a pharmacist in the State of California… [Read More]
---
December 18, 2020
...The hospital bed shortage will not go away once Covid-19 is vanquished. The reality is that we need more hospital beds to meet future demand, keep pace with the region's growing population and prepare for public health crises that will inevitably strike again. As leading epidemiologists and public health organizations point out, the coronavirus will not be the last pandemic. In fact, steadily growing global travel and commercial, cultural and political interdependence among nations will make the onset of new viruses impossible to avoid...[Read More]
---
December 20, 2020
Medical school deans around the nation are seeing what they are calling the "Fauci Effect," as the number of applications at their medical schools have skyrocketed to unprecedented levels, according to the Association of American Medical Colleges...
...Dr. Joseph Silva, dean of the medical school at California Northstate, has known Fauci since they were both fellows in the study of infectious diseases in 1969, back before it was a subspecialty...[Read More]
---
May 8, 2020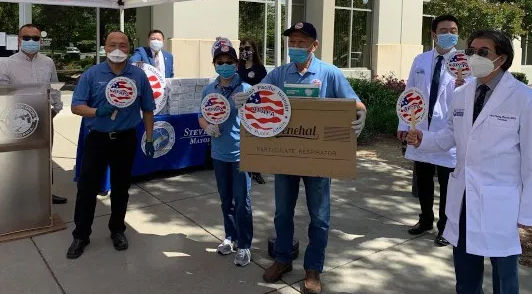 "…15,500 surgical masks, 100 goggles, 100 face shields, and gel sanitizers have been given to senior care facilities, the Elk Grove Food Bank, and Methodist Hospital of Sacramento. 7,500 of the masks are for senior care and residential facilities in Elk Grove, and 4,000 each will go to Methodist Hospital and Elk Grove Food Bank. The ceremony and pick up of the materials also observed social distancing practices…" [Read More]"
Events
---
May 4, 2023 - All Day
CNUCHS Research Day: Student Scholarly Showcase Open to all CNU students, faculty, staff, residents, colleagues and collaborators.
---
August 16-19, 2023 - 9-3pm
Pre-Health Professions Institute
Open to all CNU students. Focus on academic timeline planning, graduate program application tips, graduate school networking, admission interview practice and medical skills Registration
---
January 16, 2021 - Noon to 4pm
Rapid-Action Response for Education (RARE) for COVID-19 Immunization
Internet live CE event for Pharmacists, Physicians & Technicians
[More Details & Registration]
---
Friday January 29, 2021 - 8am to 5pm
Virtual 2021 Annual CNU Research Symposium
Open to all CNU students, faculty, staff, residents, colleagues and collaborators.
[More Details & Registration]
---
February 8, 2021 - 10am to 4pm
CNU College Blood Drive
Because of you, life doesn't stop. #vitaltolife
[More Details & Registration]
---