Christopher Wostenberg, PhD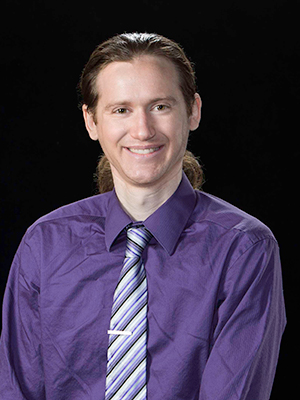 Chair of Math & Science / Associate Professor of Chemistry
Phone: (916) 686-7807
Christopher.Wostenberg@cnsu.edu
---
Education and Postdoctoral Training
Postdoctoral Research, University of Colorado, Boulder
PhD, Chemistry, The Pennsylvania State University, University Park, PA
BS, Biochemistry with honors, California State University, Long Beach, CA
BS, Mathematics with honors, California State University, Long Beach, CA
BA, Chemistry, California State University, Long Beach, CA
---
About
Dr. Wostenberg has been tutoring and mentoring students in science and math since he was a sophomore at California State University, Long Beach (CSULB). While at CSULB, Dr. Wostenberg was involved in undergraduate research in the field of organic synthesis under the guidance of Dr. Eric Marinez.
At Pennsylvania State University (PSU), where he entered under a departmental and university fellowship, Dr. Wostenberg's area of study as a graduate student was protein structure and dynamics and their relationship to binding in the lab of Dr. Scott Showalter. While obtaining his PhD in Chemistry at PSU, he served as a teaching assistant for the first semester of organic chemistry. Among his accolades of distinction at PSU are the Paul Berg Prize in Molecular Biology and the Braucher Award for graduate research in Chemistry, both awarded in 2010.
Prior to joining the faculty at California Northstate University in the College of Health Sciences, Dr. Wostenberg was a post-doctoral researcher in the Batey lab at the University of Colorado, Boulder (CU, Boulder) from 2012 - 2015. His research was in the field of biochemistry/biophysics; however, he switched to studying RNA structure and function utilizing riboswitches as a model RNA.
Dr. Wostenberg has been with CNU-CHS since the summer of 2015. While at CNU-CHS he has taught general chemistry lecture and lab, organic chemistry lecture and lab, biochemistry, pre-calculus, calculus and research methods. He has worked with the student publicatin, CHS Sideline, writing film reviews. His accolades so far while at CNU-CHS has included the 2020 Teaching Award and 2019 Walking Wikipedia Award. In 2020 he was promoted to Associate Professor.
Currently, Dr. Wostenberg is a member of RNA society and the American Chemical Society. His research interests are understanding the role structure and dynamics has on the function of biological macromolecules. He has also collaborated with Dr. Valley on his computational drug discovery research project. He has assisted with the creation and implementation of the freshmen research project ISLaND looking at the Sacremention river system. He currently serves as a board member of the Subcommittee on Research Safety for the VA of Northern California Health Care System. Additionally, he acts as an eMentor to Sheldon High School's Biotech Academy.