Reem Al'Olabi, PhD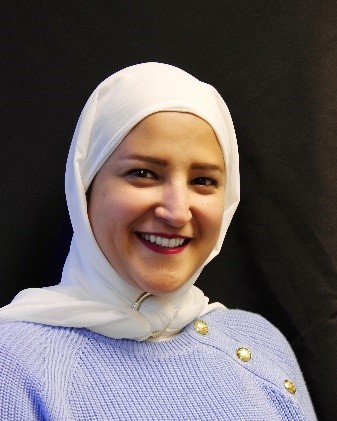 Assistant Professor of Biology & Biotechnology
Phone: (916) 378-3572
Reem.AlOlabi@cnsu.edu
---
Education and Postdoctoral Training
Postdoctoral Scholar, The MIND Institute - University of California, Davis, CA, USA
PhD, Biotechnology – Applied Sciences, The American University in Cairo, Egypt
MPH, George Washington University, DC, USA
M.Sc., The American University in Cairo, Egypt
B.Pharm., Ain Shams University, Cairo, Egypt
---
About
Dr. Reem Al'Olabi received both her Masters and Doctorate degrees from The American University in Cairo. Her research project's focus was on identifying drug leads against both Hepatitis C Virus and Malaria. To implement this project, she established collaborations with Scripps Research Institute (CA), Caltech (CA), UC Davis (CA), Johns Hopkins University (MD), Rutgers University (NJ), Lawrence Livermore National Laboratory (CA), Stanford University (CA) and Institute Pasteur De Lille in France. She received training in some of these institutions and conducted all the research there. Her research project resulted in several peer-reviewed publications and 3 USPTO patents. Furthermore, Dr. Al'Olabi obtained her Master's in Public health from George Washington University. In addition, Dr. Al Olaby got her Project Management Professional Certification (PMP(r)) from Project Management Institute.
Dr. Al'Olabi joined Qatar University (Doha/Qatar) as a postdoctoral researcher and worked on determining the effect of treating triple negative breast cancer cells with phytochemicals in addition to the impact of stress hormones on the metastasis of breast cancer. Dr. Al'Olabi then joined Qatar Biomedical Research Institute (Doha/Qatar) as a postdoctoral researcher working on Genetics of Autism Spectrum Disorder. In addition, she helped in establishing the community outreach programs that aims at bridging the gap between scientists and the public. She was also the project manager for QBRI's part of the Cancer Biology and Therapeutics Program which was a partnership between Harvard University School of Medicine and QBRI.
Dr. Al'Olabi then joined UC Davis MIND Institute as an NIH funded postdoctoral fellow in The Autism Research Training Program where she worked with Dr. Flora Tassone and Dr. Randi Hagerman as the mentor and co-mentor respectively. Her work with them focused on the genetics and epigenetics of ASD and Fragile X Syndrome (FXS) in addition to the genetics of Fragile X-Associated Tremor and Ataxia Syndrome. Currently, Dr. Al'Olabi is maintaining this collaboration and is continuing to work on the epigenetics of FXS and ASD, the correlation between FXTAS and cancer and pharmacogenetics projects.
Dr. Al'Olabi's research interest lies in merging her experience in drug discovery with her training in the neuroscience discipline. She aims at developing a library of drug leads that can target neurodegenerative disorders that are based on proteinopathies and alteration in the protein stability system.